Getting admission to a UK University comes with its fair share of documentation and paperwork. The number of documents a student might require to enter will depend on the course of study, university and city they are planning to study. These papers are a must and must be submitted along with the application.
Many students face issues in understanding this admission process and need assistance while applying. To guide them, experts who provide assignment help in the UK have prepared a list of all the documents you might require. They know this information because they have been through this process and currently helping out students in the same place. So, they know the in and out of the admission process.
It is also important to remember that the application for an undergraduate course needs to be sent to Universities and College's Admission Services (UCAS). Students can find more information on it on www.ucas.com. 
Prepare to Apply
Before applying to a university, students will first have to choose from many that are offered in the UK.
Look over all the available courses and choose the one suitable for you. UK universities have a lot of subjects that pique student interests.
Take into consideration course tuition fees:
Students coming to UK universities from non-EU (European Union) and EEA (European Economic Area) have to pay total tuition fees. Additionally, in some universities, they will not be eligible for grants or loans.
After 2020, Students from the EU/EEA are now not eligible to take loans and have to pay full tuition fees.
3. Afterwards, check if you are eligible for a scholarship for the university you are trying to apply to.
Check the university entry requirements, especially if you need to take any language test, such as IELTS or TOEFL.
Now, let's start with the essential list of papers that you must-have for your admission application:
Class X mark sheet
Class XII mark sheet
Mark sheets of the degree course
Provisional/Degree certificate
Any other diploma or certificate or extra-curricular activity certificates
Two Recommendation Letters (Original letterheads only)
Recommendation letters preferably from your college/university principal, professors, and lecturers. It can also be obtained from your present or former employer if you have work experience, which is very important for MBA candidates.
IELTS/TOEFL 6.0-6.5/70-90 English Language Certificate
Three passport-sized photos — (Recent student's signature on the back of them)
Certificate of Work Experience:
If you are currently employed, you need to get a Work Experience letter/certificate from your employer detailing the duration and type of your work in the company/institute/organization.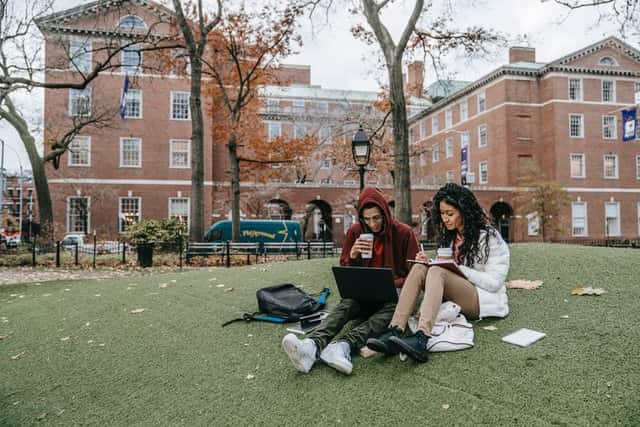 Entry Requirements for UK Undergraduate Study
HND: For this degree, you will require a qualification that is equal to one or two UK A-levels. Two Scottish Highers, a Higher National Study Certificate or BTEC National Diploma, or an international foundation year; and IELTS 5.5-6.0 are required.
Foundation Degree: A qualification equal to one or two UK A-levels, one or two Scottish Highers. Moreover, you will need a National Diploma for EU/EEA students, an international foundation year, and IELTS 5.5-6.0.
Diploma of Higher Education: Qualification that is equal to one or two UK A-levels; two or three Scottish Highers or a National Diploma for native students, or an international foundation year for overseas one; and IELTS 5.5-6.0 along with that.
Degree Programmes: Qualifications equal two or three UK A-levels; three or four Scottish Highers, a Higher National Certificate or Diploma. A BTEC National Diploma for EU/EEA students, or an international foundation year; and IELTS 6.0-6.5.
Entry Requirements for Postgraduate or MBA Study
To apply for a postgraduate course in the UK, you will first need an undergraduate degree. Your degree should have a grade of 2:1 or the international equivalent in the subject you will be applying. Additionally, you will require to be an English speaker or have an IELTS certificate of at least a 6.5 band score.
Pre-master's: An undergraduate degree with an IELTS score of 5.0-5.5.
PG Certificate/PG Diploma: Undergraduate degree plus IELTS 6.5-7.0, or a pre-masters course.
Master's degree: First or upper-second class undergraduate degree accompanied by an IELTS band score of 7.0 or a pre-masters course.
MBA: First or Undergraduate degree, 2-3 years of business experience, and IELTS 6.5-7.0.
PhD: Master's degree and IELTS 6.5-7.0.
Important Notes
Deadline for application submission
Mid-October: It is the deadline for all Dentistry, Medicine and Veterinary Medicine courses.
Mid-January: UCAS deadline for EU/EEA students. Renowned or top-ranking universities will not accept Bachelor's applications after the UCAS application deadlines are over.
Many universities have different deadlines for international students (especially for graduate applicants). You can check specific university deadlines on their websites.
If you have scored more than 65 % or above in English in levels ten and 10+2, we can request the university for the English exam waiver (IELTS or TOEFL)
You can also apply without the certificate of IELTS or TOEFL scores in hand, but you must make a conditional offer, and for the scores obtained, you must submit scores afterwards to complete the conditional offer.
For securing scholarships, one should have at least 65% of marks in a bachelor's degree and an overall 6.5 band or above IELTS score.
Here you have a complete guide for the application and admission process and the list of documents that a student will require for UK universities.