As a parent, we want only the best for our children. However, there may come a time when they need extra help with their academics. Getting the assistance of a professional tutor might just be the answer, whether it's to improve their grades, prepare for college admission, or to hone certain skills. You can use Singapore Tuition Assignments to find a tutor today!
But finding the appropriate tutor for your child isn't as easy as it sounds. There are some factors you need to consider so you can meet your goals. Below are some proven-and-tested tips to help you choosing a tutor that's best suited for your young one's needs.
1. Determine Academic Goals
To help your child achieve academic success, you need to ensure there's open communication among you, your child, and the tutor. Make it a team effort by formulating short-term and long-term goals, and discussing learning progress together.
A good tutor should already be aware of these goals, but nobody knows a child better than their own parents. For the goal-setting process to work smoothly, parents and tutors must work toward a common goal and connect on a regular basis to reinforce their strategies. Ideally, a tutor may also give feedback on the child's learning progress.
2. Get Recommendations
For many parents, choosing a tutor can be tedious. Consider starting your search by asking your child's teacher or advisor, school principal, guidance counselor, or friends and family who have gone through the same process. Some schools even provide a list of experienced tutors and are more than happy to make recommendations.
Additionally, you can check local ads in parenting magazines, as well as in parenting blogs online. Other parents are an excellent source, as well.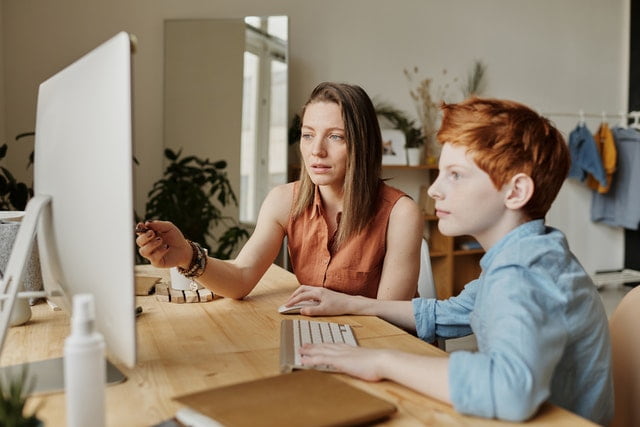 3. Find the Best Approach
You will also want to decide the type of tutoring services your child will benefit the most from. Take into consideration the cost and convenience when choosing a tutor. You might want to go for private/one-on-one sessions, in-home tutoring, or group tutoring, depending on your young one's personality and learning style.
But now that we're faced with the ever-present threat of COVID-19, it's probably a good idea to consider online tutoring, as well. Some websites to find the best online tutors include, but are not limited to:
IHateWritingEssays.com. An online platform that's dedicated to providing real, honest, evidence-based reviews on online homework services. IHateWritingEssays shares insightful information and guides to finding affordable and reliable online tutoring services, and offers useful tips to avoid getting scammed online by fraudulent companies. Pretty much a one-stop destination for your child's academic needs.
Upwork.com. Here you can post jobs, review bidding freelancers, and hire a tutor that best meets your specific requirements and budget.
Reddit.com. The site contains small communities called 'subreddits', where you can find and hire talented professional tutors and freelancers, as well as find useful personal reviews and tips in choosing the perfect tutor for your children.
4. Check the Tutor's Credentials
Determine whether the tutor has the necessary experience and skills in teaching the subject your young one needs help on. While not all instructors are experts in tutoring for your child's academic level, it's a great idea to find someone with a college degree or who has completed a training program for tutors. This is to ensure that they have full understanding of the academic theory, teaching strategies, and remedial methods.
Another option will be to hire a graduate student with good grasp of content knowledge, with a teaching style that matches your child's personality and learning style. Equally important are their personality and attitude.
5. Build Rapport
Sure, a tutor's qualifications make for a good marker, but it's just as important to consider whether or not your child is ready to engage with them. Building student rapport is important because it fosters confidence and helps the child ask questions that improve their understanding of a subject.
6. Communication is Key
Tutoring isn't just all about copying and reading notes from the board. A tutor should be able to effectively connect and communicate with the child, as well. Spare some time to meet with the tutor for a free session before deciding to fully commit to lessons.
Many of today's students tend to be audio-visual learners, so it's important that your chosen tutor has a good understanding of tools and materials to make learning interactive and highly engaging.
7. Give Continuous Support
Helping your child through supplemental education doesn't end right after you sign them up for tutoring. Once you've chosen the tutoring service that best fits your child's needs, parents should continue encouraging and staying involved in the learning process.
Keep track of your child's progress, get regular feedback from the tutor, and stay informed about the learning goals before and after each lesson. This way, you can ensure that your child is getting the maximum benefit from tutoring.
Of course, every child is unique and there will be other things to consider depending on your situation. But if you work through the abovementioned pointers, choosing a tutor will be a whole lot faster and easier.