With the rise in the usage of the internet and simultaneously social media, Digital marketing has boosted its place in the market. Brands finding new ways to promote their products with techniques and tools of Digital Marketing is on the upsurge.
Digital marketing also known as Online marketing is a way where brands promote their products and services and are on the lookout for potential customers on any digital platform. Hence the need to study and understand the overall comprehensiveness that digital marketing provides, MBA in Digital Marketing is also one of the popular choices by students after pursuing their graduation.
KK Modi University(KKMU) is one of the best private universities in India which offers the foremost MBA and BBA in digital marketing courses in Chhattisgarh. Their finest curriculum for MBA in digital marketing makes them the best MBA colleges in Chhattisgarh. Their mission and vision are to mold students accordingly to rapidly changing society and contribute to the betterment of our social environment top tiers their goal of produce elite professionals
Hence, let us look at some of the key aspects of why an MBA in digital marketing is better than other digital marketing courses.
1. MBA in Digital Marketing Core subjects
This is a two-year post-graduate course where students will in-depth learn business fundamentals regarding Digital marketing. Candidates must have a graduation degree with aggregated marks of 45% from a recognized university or college. To take admission to college, one must follow its set procedure, whether it may be merit-based or an entrance exam is required. Some of the core subjects taught in the MBA Digital Marketing course are-
Marketing Management
Business Research Management
Operations Management
Social Media Marketing
Organizational Behaviour
Enterprise Analysis
Search Engine Marketing
Affiliate Marketing and Google Ad sense
Content Marketing
Digital Enterpreunship
Consumer Buying Behaviour
As you can analyze, pursuing an MBA in Digital Marketing collectively gives you in-depth knowledge rather than completing one singular course in Digital Marketing. The core subjects taught in this four-semester course cover more topics and give increasing exposure to information compared to any other eccentric digital marketing course.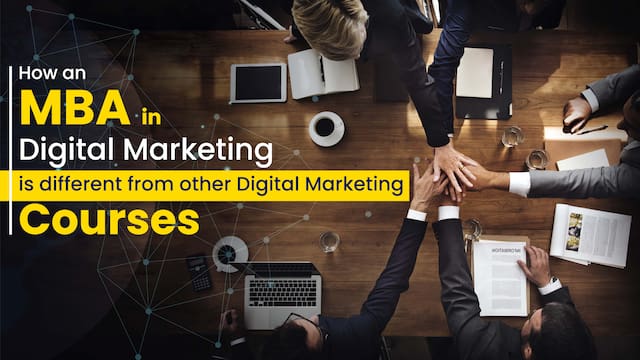 2. Top Private Recruiting companies for MBA in Digital Marketing
Having an MBA degree from a recognized university or college like KK Modi University will grant you a permit to the top recruiting companies out in the world which won't be the same case with any digital marketing course. The benefit of sitting through placements rather than searching online based on courses you have completed can be much easier and more approachable. Hence let us look at top private recruiting companies for an MBA in Digital Marketing.
Google
Facebook
Linkedin
AngelList
Social Panga
WebFx
SEO discovery
Perfect Search Media
MaxAudience
The average salary these companies offer for MBA in Digital Marketing offers is approximately 3LPA to 10 LPA. Obviously, time and increasing skills and experience will provide you with higher pay in your career growth.
3. MBA Digital Marketing curriculum VS Digital Marketing course curriculum
An MBA in Digital Marketing covers all aspects related to Digital Marketing whereas a digital marketing course focuses on one area. Topics covered in MBA like Search Engine Optimization, WordPress, Web Analytics and Tools are not collectively taught under one course. Such online courses are not organized and consigned in one place. Apart from these, the guidance of an expert faculty member having years of experience will put you ahead in the game rather than having some online course involving 500 students at a time. An MBA in Digital Marketing gives you a unique and distinctive experience for pursuing your career in Digital Marketing and gives you access to an MBA degree that will be applicable and recognized to any nook and corner of the world unlike any Digital Marketing online course.
4. Career options for MBA in Digital Marketing student.
MBA in digital marketing colleges in India provide various placements to their students. Obviously, completing your MBA degree in Digital Marketing will provide you an ample opportunity out in the market. Some companies have set criteria for hiring MBA graduates over a course-certified person. Hence having an MBA degree will put you at the forefront of your blooming career. With that, let us look at some of the career options which open up for you as an MBA in Digital Marketing student.
| | | |
| --- | --- | --- |
| Job Role | Description | Average Salary |
| Advertising Manager | Working in an advertising firm, your task is to prepare ads for clients on a requirement basis and set up digital campaigns revolving around their products or services. | Approx 2 LPA to 5 LPA |
| Brand Manager | Managing the brand is currently perceived in the market and producing strategies on how to make the brand more approachable | Approx 2 LPA to 10 LPA |
| Public Relations Manager | To enhance your client's image in the digital space, take preventive measures to ensure that the brand value of the company or client is reduced | Approx 2 LPA to 5 LPA |
| Market Research Analyst | Preparing analysis on ongoing market trends in digital space, providing data-backed approaches to magnify your clients/brand reach to more customers | Approx 2 LPA to 6 LPA |
As you can analyze, having an MBA degree in Digital Marketing will issue you a ticket to work on these job roles with high-earning salaries.
Conclusion
For the latest update on MBA admission 2022, you can visit the official website of KK Modi University. Pursuing an MBA in Digital Marketing will have a huge and beneficial impact on your career growth. We hope this article gives you clear and conscientious insight into what is arranged for you if you choose to complete an MBA in Digital Marketing degree and helps you decide whether to go for an MBA or a Digital Marketing course. If you are associated with KK Modi University and conclude your degree from the best private university in India, will be advantageous for you and grant you a lot of opportunities in your career and wish you all the very best for your future.