Homeschooling has been the trend since the COVID-19 pandemic outbreak to protect children from the threats of the virus. Parents are now more involved in their children's academic studies. They play a vital role in motivating young minds to focus on learning modules and participating in virtual classes.
But how should parents perform this role more effectively? This guide will help you learn how to keep your kids motivated when online homeschooling.
1. Good Communication
Proper communication is key to successful online homeschooling. While parents might be too busy with work, household chores, and attending to other family matters, there should be time and a way for them to talk to their children and ask how they feel about their online learning experience.
Leaving children on their own can be demotivating, especially if it's their first time. Children who were used to classroom learning surely miss the pre-COVID learning setting. Transitioning to online homeschooling may cause them feelings of isolation and loneliness.
Therefore, parents should provide emotional and moral support through regular interaction with their children. A parent or guardian should check the child regularly during a virtual learning session. This way, the child will feel more confident and motivated to participate in online learning activities.
2. Use Educational Technology Tools
There are many educational technology tools that children can use to help with their online learning. Some examples are electronic books, learning tablets, and educational web tools. Kids love to use these tools because many of them are tech-savvy at an early age.
But it's still important to stay with your children as they discover how to use these tools for the first time. In this way, they are more confident manipulating these tools.
3. Create A Pleasant Learning Environment
What part of the house is the best place to create a learning corner for your children? Homes with libraries or guest rooms are where parents usually set up their children's learning areas for online classes. Others with limited space create a small learning corner inside their children's room.
You can create a pleasant learning environment for your kids with the following tips:
Buy Real Books
Reading physical books is still incomparable with digital online or electronic books. Limiting screen time is essential to avoid eye strain and fatigue. Even without a power or gadget battery, you and your children can still read books together. Invest in hardbound books to ensure durability so your children can use them for many years to come. Storybooks, texture books, encyclopedias, dictionaries, and other physical references on a nearby bookshelf or table are easily accessible whenever your kids need them.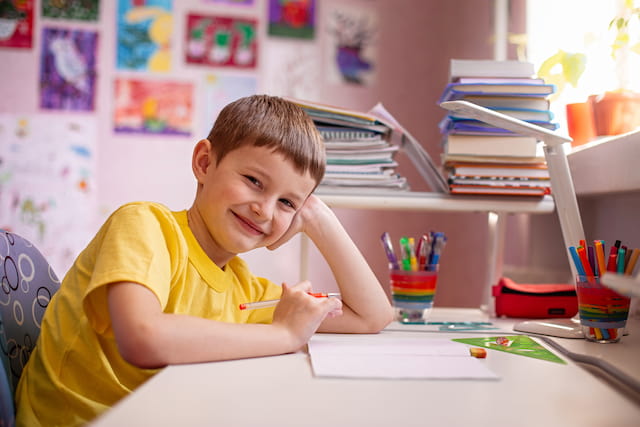 Display Learning Charts
Increase the familiarity of your pre-school child with the letters of the alphabet, numbers, colors, and shapes by displaying learning charts on the wall or a dedicated chart board. Other learning charts include body parts, bodies of water, and different professions.
Keep The Learning Corner Clean And Organized
A messy place can affect an individual's learning motivation. So, make sure to clean and disinfect the area every after online homeschooling. If your kids don't have space in their room dedicated to studying, then you can have a kitchen remodel to fit in a bigger wooden countertop where your kids can learn and then easily clean it.
4. Use DIY Or Available Learning Resources
You can find many learning materials at home to help teach your children the concepts they taught in online classes. For instance, kitchen ingredients and plants found in your garden can be great subjects for math or a science experiment.
Make online learning more fun by supplementing the teacher's explanations with real-life applications. Such as asking your children to create a weekly budget plan for your home by providing sample receipts and allowing them to compute groceries, utility bills, etc.
Creating do-it-yourself or DIY projects will make your children feel like playing, but they're learning. Here are some examples:
Creating DIY decorative fabrics, like crocheting and embroidery
DIY woodworks such as a simple bench or table made out of repurposed lumber and plywood
DIY plant holders made from recycled water bottles, cans, and other containers.
5. Collaborate With Teachers
Children tend to get easily bored or tired of homeschooling, because they're within their comfort zone and are often distracted by toys, gadgets, television shows, pets, or siblings. So, parents face many challenges keeping their children focused and motivated.
Parents and teachers should help motivate children to learn at home through online classes. Ask the teacher for interactive and engaging teaching techniques you can apply at home. Get honest feedback from your children's teachers on how they're doing in their performance and show your support in observed critical areas of improvement.
Online Homeschooling: Conclusion
Online homeschooling can be challenging for both parents and their children. However, good communication, collaboration, and creativeness can help keep learning more fun and exciting. Be patient, open, and kind to your kids. Listen to their frustrations, talk to them, and show your support by giving them words of wisdom.
In addition, provide children with time to rest, eat nutritious food, and play.