BBA or Bachelors in Business Administration is a 3-year undergraduate program in management that is quite popular with those looking to take the leap into management early in their careers. There are many specializations one can opt for in the course like Finance, Human Resources, Marketing, etc. However, most management institutes in Mumbai that offer a BBA course also have an entrance examination in place to vet the quality of students that get into their program.
Now you might be wondering how to tackle the problem of yet another exam. This article will guide you through that. But before we get into any serious tackling, let us look into what makes you eligible for a BBA course first.
Eligibility
The marks obtained in class 10+2 (Higher Secondary) are really important to get into a BBA programme at any college. As per AICTE (All India Council for Technical Education) norms, eligibility for BBA course starts with securing at least 50% or more (45% for reserved categories) from a recognised board. Of course, different colleges have different cut-off marks for 12th board exams, so make sure you take note of the cutoff for the university of your choice.
Another thing that most colleges take into consideration is the marks you obtained in English in your higher secondary. Make sure it is above 60% just to be on the safe side. The next step is the BBA entrance exam itself. It has to be cleared following which you will be able to proceed with the admission process. Let us dissect the exam now so that we can come up with strategies to master it.
BBA Entrance Exam
The basic syllabus for any BBA entrance examination is made of four subjects or sections – English Proficiency, Logical Reasoning, Quantitative Aptitude, and General Awareness. Most of these exams also have an option for you to either attempt 100 questions in 120 minutes or 150 questions in 120 minutes. Do note that some entrance exams can go as long as 3 hours too, it all depends on the institution conducting it and its criteria.
Since all the questions are usually objective-type questions, speed is of the essence here. All the questions, especially in the math and English sections, should be from what you have already been made familiar with in school so it should not be a cause for concern. Candidates should brush up on their knowledge and skills in all four sections. Math should be a special focus since it can be time-consuming. Let us look into what strategies we can employ in our preparation for any BBA entrance examination.
Time Management
Time management is key in any BBA entrance exam since there are a lot of questions to be solved in a limited time. Speed is of the essence here. Try not to take more than a minute on a single question. Skip the ones you are not sure about since there will be negative markings for wrong answers. Try to learn Vedic math and other math tips and tricks that will help you get correct answers quicker than normal methods.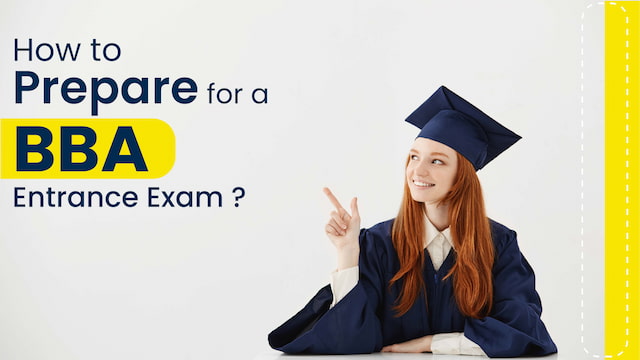 Basics First
Most questions come from what you have already studied before, so make sure to go back to the basics. Revise the necessary sections from old books of classes 9-12. Find out which sections you are strong at and which you aren't. Then try to spend more time on the subjects you are weak at. Your strategy should be to train your weak spots while capitalizing on your strengths.
Practice
There is no alternative for practice. Practice math and logical reasoning problems daily for a fixed amount of time. Topics like HCF and LCM, square roots, mensuration, profit, and loss can be time-consuming, so try to bring down the time you require to solve them. Use a timer to track your progress over time if needed. Revise stuff like formulae, theorems, and concepts on a daily basis. Also, try to solve previous years' papers and take plenty of mock tests.
Break it Down
Divide the amount of time you spend studying for each of the four sections on the basis of your strengths and weaknesses. It is also important to approach them differently. For English, you should solve comprehension exercises, brush up on your phrases and idioms, and revise basic grammar and vocabulary. Logical reasoning can be practised online or from previous years' papers or mock tests. General awareness involves two areas – static GK and current affairs. While basic general knowledge can be brushed up from any source, it is a good idea to make a habit of reading newspapers and magazines to stay up to date with current affairs developments. We have already outlined the various methods to improve your math skills.
BBA Admission Process
After completing the entrance test, the rest of the process needed to get admission into a BBA course is pretty easy. Colleges usually conduct a personal interview after you qualify for the entrance examination. The final consideration is made after combining your academic performance in your 10th and 12th board exams, the marks you obtained in the entrance test, and the review of your personal interview.
Some colleges like UBS, one of the best BBA colleges in Maharashtra also provide BBA direct admission if certain criteria are met. These criteria differ from place to place so make sure to enquire about the college you end up choosing. Some colleges may require you to submit an SOP (Statement of Purpose) too. The rest of the process just involves submitting the required documents and waiting for the letter of approval.
To sum it up, BBA qualifications should not get your knickers in a twist if you have a good preparation strategy that you stick to on a regular basis. Once you figure out your strengths and weaknesses, and how to go about fixing the weaknesses, the rest of the preparation should just be down to revision and discipline. That's all you need to do to prepare for any BBA entrance examination in any college in the country.